The Best Chronological Bible Reading Plan
…for reading the Bible in Chronological order in 2024!
If you are searching for chronological Bible reading plans then you need to know they are not all the same! You may be wondering why a Bible in chronological order could be different if they're all supposed to follow the biblical timeline. Well, here is the big news… they don't all follow the Bible timeline. Keep reading to find the best ways to read through the Bible chronologically or check out our favorite chronological Bible reading app.
Approaches for Biblical Timelines
When a plan is created for reading the Bible chronologically there are several different philosophies used for constructing the order. Some plans focus on the order the events occurred. Others use the order in which the books were understood to be written. Since the ordering of both of these can be disputed, we have lots of variations on chronological Bible reading plans. To further add to the mix, some of the best Bible reading plans combine the Old Testament timeline with parallel New Testament passages.
Should you read the Bible using a chronological plan?
Reading the Bible chronologically is all about understanding its message in the context of the over-all Bible story. For instance, when reading the Bible in chronological order you will read the Psalms David wrote in the context of what was happening in his life. So Psalm 51 will get paired with 2 Samuel 12 which shed great light on his repentance after sinning with Bathsheba. An example of this can be seen by reading day 366 and 367 of this plan. Likewise, Amos gets placed around 2 Kings 14 and 15 which helps you understand the time period of what was going on in Israel and Judah when he prophesied (click here to read Amos and 2 Kings together).
Downsides do exist when using some chronological Bible reading plans. The biggest issue is that they break up the Bible books so much that you lose the context of the book itself. This happens because the plans are trying to maintain the narrative of the Bible timeline across several books. One particular chronological Bible reading plan that fixed this problem was created by Bible Study Together. Their plan purposefully leaves certain books of the Bible together if they felt like breaking them up removes the context in which they are written.
Bible Context on Steroids
Are you looking to read the Bible in chronological order? If so, chances are you want to better understand the context of how the whole Bible fits together. Most chronological Bible reading plans do this to some degree. The plan created by Bible Study Together takes this to a whole new level. This reading plan puts the Old Testament timeline in chronological order. Then it inserts New Testament parallel passages alongside the Old Testament chronology. The result is that you get to see how the Old Testament is explained and fulfilled in the New Testament while you daily read through the Bible. All this is done without breaking up the context of Paul's letters so that you can still follow his logic. Examples include the story of Abraham and Isaac and the sacrifice of Jesus on the cross. If you are looking to better understand the context of the Bible, Bible Study Together's Chronological Cross-Reference Bible Reading Plan is the best one for you!
Lots of Reading Plan Options
When considering which chronological Bible reading plan you want to use, you should consider what reading tools accompany it. Bible Study Together offers the broadest set of accompanied resources keyed specifically toward their plan. They have high-quality glossy booklets with the whole reading plan, printable pdf study journals with open-ended questions about each day's reading, and an impressive Bible reading app. The app is more than just a Bible reading tool with a built-in audio Bible, it also features prayer tools for daily prayer, and a whole social private groups feature so you can pray and read the Bible with your friends. No matter how you like to read, Bible Study Together has you covered.
Chronological Bible Plan App
Are you interested in simultaneously reading and listening to an audio Bible? Look no further than the Bible Study Together app. This free comprehensive app offers the complete texts in ESV, NLT, KJV, and NASB translations, along with specially curated videos for each day's reading and detailed maps showcasing cities mentioned in the Bible. Moreover, the app facilitates engagement with daily questions, fostering meaningful discussions with the aid of its fellowship tools. Unlike other platforms, the app's fellowship section functions as a private social network, free from any distracting advertisements. Here, users can communicate, share prayer requests, and stay connected with their group members.
The application also includes a comprehensive suite for managing prayer requests. Additionally, it offers a prayer time assistant designed to prevent distractions during prayer sessions. In summary, the Bible Study Together app is the ideal tool for those seeking to maintain a focused and meaningful quiet time dedicated to studying God's word and prayer. Download the app today.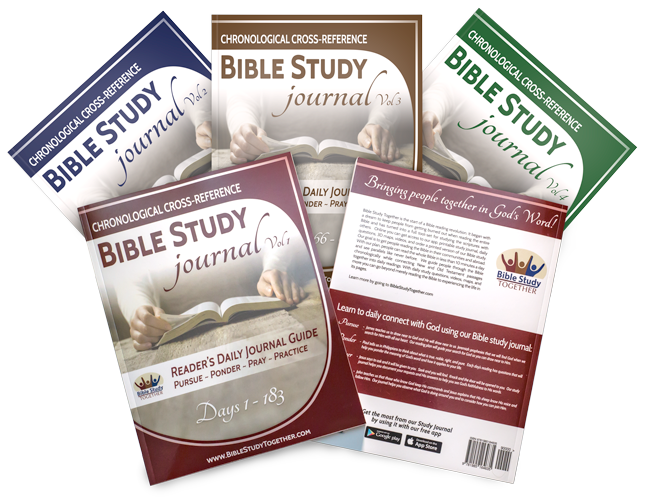 Chronological Bible Study Journals
Our study journals are available in print, but you can also print them yourself with the PDF version of our chronological Bible reading plan. These journals have been carefully designed to help guide you in your meditation on God's word and prayer, while also showing you where to read in your printed Bible. Each day, the journal will lead you through the Chronological Cross-Reference Bible reading plan, offering new and thought-provoking open-ended questions. Additionally, it encourages you to write down your prayers and assists in reflecting on how to apply what you have read. These study journals are your ideal companion if you prefer writing things down to process them. By using these journals, you will create a lasting record of your spiritual journey with God, to be cherished by future generations. Don't miss out – get your study journals now!
Chronological Bible Reading Plan Booklets
Do you have a preferred study Bible and a unique way of connecting with God? Look no further, as Bible Study Together offers high-quality glossy printed booklets that contain the complete Chronological Cross-Reference Bible reading plan. These booklets are specifically designed to perfectly fit within most Bibles and are built to withstand years of use. With these booklets, you can personalize your time with God while still having the advantage of knowing where to read each day. Not only are these booklets ideal for individual use, but they are also perfect for getting small groups or entire churches on the same page. By providing them with this plan and directing them to the appropriate resources that suit their specific needs, Bible Study Together ensures everyone is aligned. Don't hesitate, order your booklets today!
Start Reading the Bible Chronologically Today!
If you would like to get started reading the Bible in chronological order with Bible Study Together the following button links will help you get started. Choose from the Bible reading app, reading plan booklets, and/or the printable study journal (also available in softcover from Amazon.com).