Your desire to start reading the Bible in 2023 can propel you to a powerful year of deep fellowship with God. Nevertheless, if you don't approach this practice with purpose and a plan it is likely that this year may be the same as last year. Distractions and business are ready to combat your devotion to God and you don't need to be overcome by them. All you need to do is follow this plan.
What is the
BEST
Bible Reading Plan?
The best Bible reading plan is not a scheduled list of verses to read each day. It's a way of approaching the Bible that sets you up for success. This is what sets Bible Study Together above all other Bible reading plans. Bible Study Together provides a daily reading schedule, but it is much more. It helps you to pray, ponder what you are reading, and fellowship with other Christians. Your Bible reading plan needs to be more than a daily schedule.
Where to Start Reading the Bible?
You should start reading the Bible with the Chronological Cross-Reference Bible reading plan available through Bible Study Together. This plan uses the Biblical historical timeline to order the books of the Old Testament. Daily reading the Bible chronologically helps you to understand how the prophecies and psalms fit into their contemporary events. This plan also helps you understand the New Testament by connecting Old Testament parallel passages within the same day's reading. As a result, you will see how the Old Testament fulfills the New as Jesus himself expounds on what you are reading. When using the Chronological Cross-Reference Bible reading plan, you will find yourself studying the scriptures as you read the entire Bible.
Choose Your Way to Study the Bible
Everyone is different and so the best way for you to study the Bible will not be the same for everyone. This is why many Bible reading plans don't work for groups of people. It is also the reason many individuals have a hard time connecting with God using these plans. Bible Study Together has recognized this issue and has solved it by providing various ways to facilitate your quiet time using its plan. All three options listed below enable you to use the Chronological Cross-Reference Bible reading plan in the way that best suits your needs.
Bible Study Together App
Do you want to read and listen to an audio Bible at the same time? Then the Bible Study Together app has you covered. The app has the full Bible text in ESV, KJV, and NASB. It also has videos keyed specifically to the days reading and maps for every city mentioned in the text as well. The app features daily questions which you can answer and discuss within the app's fellowship tools. The fellowship section of the app is like your own private social network (with NO distracting advertising) that lets you share prayer requests with your group members and keep in touch.
The app also features a full prayer suite allowing you to manage your prayer requests. It even has a prayer time assistant that keeps you from getting distracted while praying. Overall, if you want a tool to help keep your quiet time focused on God's word and prayer then the Bible Study Together app is for you. Get the app Today.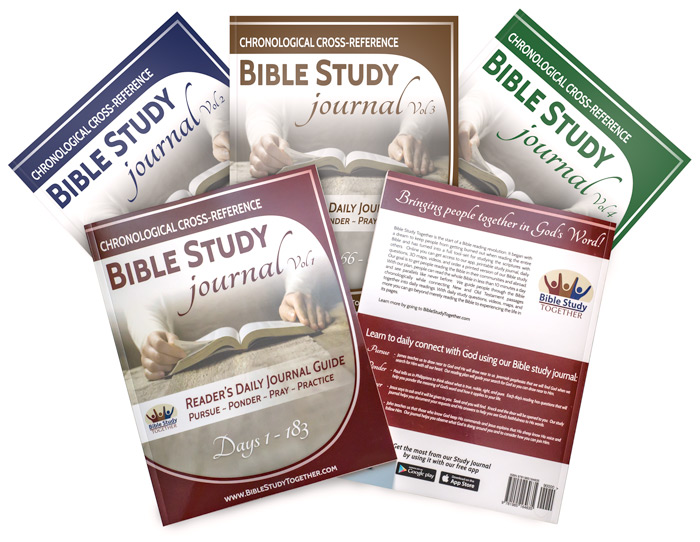 Printed/Printable Study Journal
Sometimes you enjoy the quietness and tactile feel of paper. The Bible Study Together study journals are crafted to show you where to read in your printed Bible while guiding you into meditation on God's word and prayer. Each day, the journal steers you through the Chronological Cross-Reference Bible reading plan with new unique open-ended questions. The journal prompts you to write what you are praying for and inspires you to consider how to apply what you read. If you need to write something down to process it, then the study journals are your best friend. When you get done using the study journals, you will have a legacy of your journey with God recorded for generations to come. Get your study journals now!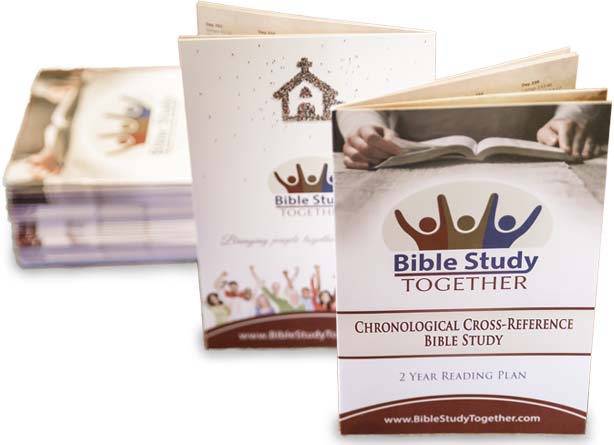 Printed Reading Plan Booklets
Do you have a favorite study Bible and your own way to connect with God? Bible Study Together has you covered with their high-quality glossy printed booklets containing the whole Chronological Cross-Reference Bible reading plan. The printed booklets are designed to fit perfectly within most Bibles and to hold up for years of use. With the booklets, you can tailor your own time with God and still get the benefits of knowing where to read each day. The booklets are perfect for getting small groups or whole churches on the same page by equipping them with this plan and steering them to the resources that best fit their needs. Order Booklets now!
How to Start and
Finish
Reading the Bible
Many times when you think of where to start reading the Bible, you may only be thinking about what chapter and verse to start on. However, where to start must include the community in which you reside. Where you live, where you attend church, and where you find fellowship with other Christians needs to be considered. Bible reading is not only a private time with God, it is the means by which we build Christian relationships that transcend the prevalent shallowness of our culture.
Bible Study Together's reading plan is tailored toward your whole community to facilitate a culture of Bible fellowship. If you want to grow in Christ then Ephesians 4:15-16 says that it will happen when each person in the church is doing their part of sharing the truth in love. Nothing will be more motivating to keep you on track daily reading the Bible than doing it with others. By connecting with God's people through daily reading of the Bible, you can do your part to build up the Body of Christ. Get started by sharing this resource with those in your community.