Bible Study Together App
Transform your daily prayer and reading with questions, maps, videos, and more.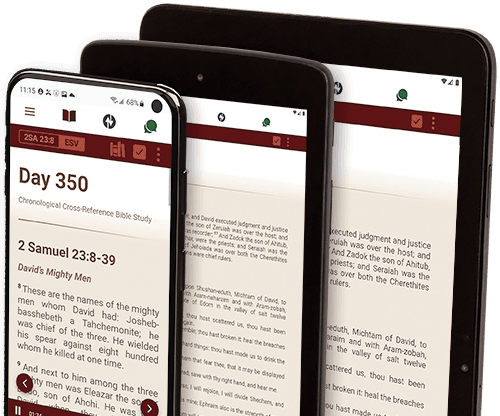 Bible Reading, Prayer, and Fellowship
Read the Bible, Pray, and Fellowship with private group members all from one app. We have re-thought from the ground up what our personal devotional time could be and have now made it a reality. Watch the video below to get a taste of what our app can do…
Daily Bible Reading Plan
Many people struggle to consistently read the Bible each day and even more wrestle to understand what they are reading. Our app utilizes a revolutionary Bible reading plan developed to use the Bible to explain itself. Unlike other reading plans that are no more than a schedule, our plan weaves you through the New and Old Testament daily connecting parallel passages while guiding you through the stories in historical order.  As a result, the entire Bible unfolds as a unified message where you see Old Testament fulfilled in the New Testament.
In addition, we have also included several resources to help everyone get the most out of each day's passages and more is on the way. Our app is part of a suite of tools designed to be used in community with other believers. Keep reading to learn more…
Bible Study Together App Features
We have combined our unique 2 Year Bible Reading Plan with several tools to help you get the most from your daily reading.
Full Bible Text
Read each day's Bible passage offline in ESV, NASB, or KJV from our Bible study app. No need to carry a printed Bible around with you and you can complete the day's reading in less than 10 minutes.
Prayer Manger
Never forget who to pray for anymore by easily keeping your prayers all organized. Sort prayers, mark them as answered, and share them with your private group.
Fellowship
Our Bible app includes a private social network just for your group so that you can share prayers, stay up-to-date, and discuss the scriptures without ever leaving the app.
Prayer Helper
Stop looking at the clock while your praying and focus on your time with God. Our app can help you pray through your whole list without having to pay attention to the time.
Audio Bibles
Listen to the daily Bible reading in ESV and KJV with our mobile app. Few things help to focus on what you are reading than if you can hear and see it at the same time.
Bible Videos
We have compiled a compelling set of videos that cover book Introductions and key topics from the Bible. Also, you can tour the tabernacle and temple right from our app.
Bible Maps
Over 650 Bible maps have been embedded into the daily reading to help you know where things are located on the days you read about them.
Bible Questions
Unique open-ended question for every day's reading tailored to help you ponder what God is saying through His word and useful for group discussions.
Track Reading
Keep track of where you are reading in the reading plan.  No bookmarks or hassles if you miss a day. Our tracking tools are simple but effective.
Read in Community
If you are looking to read the Bible with others finding a plan that conveniently works with print and mobile devices can be challenging.  That is why Bible Study Together is much more than just an app.  We have a full set of resources for everyone here at our site.
Our Bible study tools are perfect for small groups or even whole churches.  Take a peek at what we have to offer.