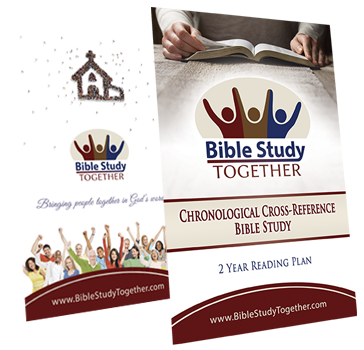 Order a Printed Copy
Order your own printed copy of the 2 Year Chronological Cross-Reference Bible Study Plan. It has a tough card-stock cover and the whole booklet (including the inside pages) are glossy coated to protect it while you use it for the next 2 years.  Before you order, please take some time to learn more about Bible Study Together and what we hope to accomplish in the near future.
High Quality Printed Version
Contains the whole 2-year reading plan
12-page saddle stitch booklet
Tough glossy card-stock cover
Full-color glossy pages
Made to last the full 2 years of the plan
The printed version of the plan lets you keep reading when you are away from the internet and enables you to use your favorite Bible.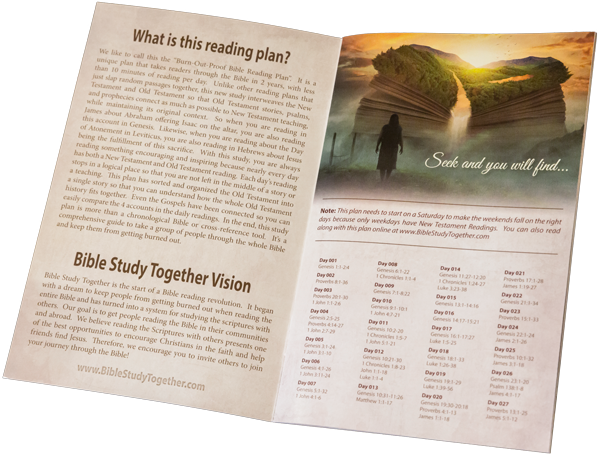 Consider Running with Us
Our goal is to get people reading the Bible in their communities and abroad. We believe reading the Scriptures with others presents one of the best opportunities to encourage Christians in the faith and help friends find Jesus. Bible Study Together is committed to creating a new Bible reading experience for those who have gotten burned out in the past and to help all believers maintain consistency in their walk with God.
Those who financially support Bible Study Together are helping to empower people to read the whole Bible. We go into churches and communities getting the word out about our resources and inspiring people to read their Bible with others. Over the next year, we hope to start up local Bible studies in churches, prisons, college campuses, nursing homes, and the military. In addition, we plan to further develop our online resources by adding study content to the daily reading. You can look forward to life application study questions, inspiring videos, social media connections, Bible study builder tools, mobile apps, and more printed content to go along with our reading plan.
As of 2016, Bible Study Together is not a 501c3 organization and so we can't provide you with tax write-offs (this may change in the near future). All money collected as a gift will come to the founder, Peter Schrock and will be used to support the work going forward. Peter is a member of Parkland Chapel Church in Farmington, MO, married to Melissa Schrock, and has one daughter. He is the author of Finding Life – A Journey Through 1 John, the founder of www.GodlyChristianMusic.com, worked six years with children in residential care, a devout student of biblical Greek, a disciple of Jesus Christ, a creative developer, and the owner of Finest Studios.
Order Booklets of Our 2 Year Reading Plan
If you are at this page we have already communicated with you about our cost to print, process CC fees, and ship a particular quantity of booklets to you.  However, we are also giving you the opportunity to help support what we are doing by adding additional support to your order.  It is our goal to get people reading the Bible without hindrance, so we don't require you to give anything extra if you don't feel compelled.  Please enter the quantity of the booklets that we have already discussed and select from the drop down an amount that will at least cover our cost in getting the booklets to you (Example: if you the booklet cost is $25 and you want to give an extra $25 to help support this work, select Contribution and Booklet Cost: $50).  If you choose a quantity and amount that doesn't cover the cost of your order we will cancel your order.
Note: Some churches who are reading through the Bible with our plan pre-order copies of this printed version for you to use.
*** Orders will begin shipping toward the end of December 2016 ***
IMPORTANT: Bible Study Together is currently run by Finest Studios.
<form action="https://www.paypal.com/cgi-bin/webscr" method="post" target="_top"><!-- [et_pb_line_break_holder] --><input type="hidden" name="cmd" value="_s-xclick"><!-- [et_pb_line_break_holder] --><input type="hidden" name="hosted_button_id" value="NY3Z98DKJXH7Q"><!-- [et_pb_line_break_holder] --><table><!-- [et_pb_line_break_holder] --><tr><td style="border: 0px;"><input type="hidden" name="on0" value="Options">Options</td></tr><tr><td style="border: 0px;"><select name="os0"><!-- [et_pb_line_break_holder] --> <option value="1. Contribution and Booklet Cost:">1. Contribution and Booklet Cost: $20.00 USD</option><!-- [et_pb_line_break_holder] --> <option value="2. Contribution and Booklet Cost:">2. Contribution and Booklet Cost: $25.00 USD</option><!-- [et_pb_line_break_holder] --> <option value="3. Contribution and Booklet Cost:">3. Contribution and Booklet Cost: $30.00 USD</option><!-- [et_pb_line_break_holder] --> <option value="4. Contribution and Booklet Cost:">4. Contribution and Booklet Cost: $35.00 USD</option><!-- [et_pb_line_break_holder] --> <option value="5. Contribution and Booklet Cost:">5. Contribution and Booklet Cost: $40.00 USD</option><!-- [et_pb_line_break_holder] --> <option value="6. Contribution and Booklet Cost:">6. Contribution and Booklet Cost: $50.00 USD</option><!-- [et_pb_line_break_holder] --> <option value="7. Contribution and Booklet Cost:">7. Contribution and Booklet Cost: $75.00 USD</option><!-- [et_pb_line_break_holder] --> <option value="8. Contribution and Booklet Cost:">8. Contribution and Booklet Cost: $100.00 USD</option><!-- [et_pb_line_break_holder] --> <option value="9. Contribution and Booklet Cost:">9. Contribution and Booklet Cost: $250.00 USD</option><!-- [et_pb_line_break_holder] --> <option value="10. Contribution and Booklet Cost:">10. Contribution and Booklet Cost: $500.00 USD</option><!-- [et_pb_line_break_holder] --></select> </td></tr><!-- [et_pb_line_break_holder] --><tr><td style="border: 0px;"><input type="hidden" name="on1" value="Enter Quantity of Booklets">Enter Quantity of Booklets</td></tr><tr><td style="border: 0px;"><input type="text" name="os1" maxlength="200"></td></tr><!-- [et_pb_line_break_holder] --></table><!-- [et_pb_line_break_holder] --><input type="hidden" name="currency_code" value="USD"><!-- [et_pb_line_break_holder] --><input type="image" src="https://www.paypalobjects.com/en_US/i/btn/btn_buynowCC_LG.gif" border="0" name="submit" alt="PayPal - The safer, easier way to pay online!"><!-- [et_pb_line_break_holder] --><img alt="" border="0" src="https://www.paypalobjects.com/en_US/i/scr/pixel.gif" width="1" height="1"><!-- [et_pb_line_break_holder] --></form>